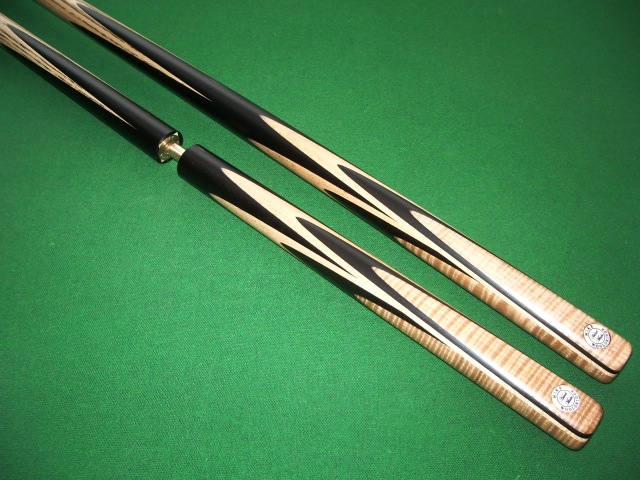 What type of cue is better?
There are basically three types of cue:
One piece - As it's name implies, this cue is complete and has no joint. My personal preference - Recommended.
Butt joint - This cue usually has a joint just below the splices (see picture), and is far and away the most popular jointed style found in quality cues.
Centre joint - The original 2pc style, which has a joint in the middle so the cue splits in half. Not popular in the modern game but quite convenient to carry.
So which one is best?
Let's put it this way...if you can play well with a 1pc cue then you can play well with a jointed cue. It all comes down to personal preferences and what you feel comfortable with. You may feel more comfortable with a 1pc or you may just like the look of a jointed cue.
Centre joint cues are undoubtedly easy to transport and certainly solve the convenience issue. Particularly useful for the 'occasional' pool/snooker player walking to the pub/club for their once a week/month game.
But one piece and butt joint cues have become more popular, and tend to be favoured by the 'better', or more regular, players.
Facts
The main reason people buy a jointed cue is for convenience. They are considered easier to carry around/store, plus, the butt joint cue was designed so that the cue could take an extension making the cue far more versatile than a 1pc or 2pc.
However, that is not so important now because many 1pc/2pc cues have joints fitted in the base of the cue to take any size extension.
A 1pc cue is solid from top to bottom, with no joint to cause any possible problems, like noises, poor alignment, or affect that 'feel' when you strike the ball.
But, a well made jointed cue should also give no problems, and has certainly never stopped a very good player from being very good regardless.
Conclusion
It really just comes down to what you like. If you're serious about your game, does it really matter whether you carry around a one piece or jointed cue?
As long as it has been well made, you are unlikely to suffer any problems.
So relax, and just go for what you feel comfortable with.