Product Description
F1 Long-Tele
If you do not want to trust the house equipment for extra long shots, you need this long telescopic extension.
Sleek, elegant, and simple to operate
Ingenious one handed twist, pull, and lock system
Smooth piston-like movement
Solid contact when striking cue-ball
Feels like a normal cue butt to hold
Shorter closed, yet longer when fully extended than any other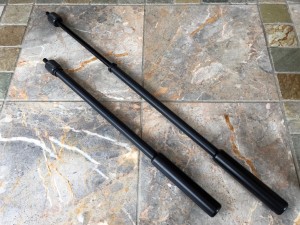 Specifications
Approximately 19" - Extends to around 35"
Features ultra light F1 Rapid Joint
Important
F1 joints are NOT compatible with AirTwist or old AirLock cues.
If you need an F1 Long-Tele with a different joint please email for availability.
Dispatch
Orders are dispatched Monday - Thursday, and most Fridays
Place your order before 3pm (GMT) and it should get sent the same day
Orders placed on Friday may not get dispatched until Monday, but maybe...
Orders placed Saturday or Sunday will be dispatched Monday
Delivery
UK Courier - Next day service - U.P.S. or Royal Mail Special Delivery
Worldwide Courier - 1-2 days to most of Europe, 3-5 days for Rest of World but delays possible due to some countries customs clearance processes
Reviews
Help spread the word - Please return to the shop after purchase and leave a review
If you have already purchased this product from Ebay, you are still welcome to leave a review