Product Description
*NEW* BlackSpin Lite Ferrule
Standard ring type ferrule made from BlackSpin composite material for lower deflection.
Precision engineered in the UK.
BlackSpin composite material - Low deflection
Suitable for snooker or pool cues - 7.5mm-10.5mm
Easily sanded/filed down to correct size once it is fitted on the cue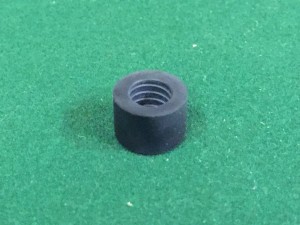 Specification
External diameter = 10.5mm
Internal diameter = 6mm
Note
This ferrule is not the same as the BlackSpin Ferrule System fitted to my cues because they are made differently with a central core that fits into the cue for improved strength and stability.
However, the BlackSpin Lite Ferrule does possess the same low deflection qualities and is designed to replace standard brass ferrules simply and easily.
IMPORTANT
Do NOT make this a very tight fit and push it onto the tenon or there is a danger it will split the walls. You must make it so it slips onto the tenon without unnecessary pressure. You can put some threads on the wood or simply score it in a few places and use two part epoxy glue. The internal thread of the ferrule, along with the thread/score marks in the wood, will ensure a good key for the epoxy and solid fixing.
Dispatch
Orders are dispatched Monday - Thursday, and most Fridays
Place your order before 3pm (GMT) and it should get sent the same day
Orders placed on Friday may not get dispatched until Monday, but maybe...
Orders placed Saturday or Sunday will be dispatched Monday
Delivery
UK - Royal Mail First Class - No tracking - Usually arrives next day but please allow 7 days
Worldwide - Royal Mail Airmail - No tracking - Usually 5-10 days but please allow at least 28 days as delivery to some countries has been taking a very long time recently (sometimes 2-3 months!). So please do not ask me for times because I simply do not know.
Reviews
Help spread the word - Please return to the shop after purchase and leave a review
If you have already purchased this product from Ebay, you are still welcome to leave a review