Product Description
MW VelvetSpin
*New & Improved*
Created for players who prefer a gentler sound and softer feel on the shot
VelvetSpin - The new standard for those who like a softer hit
*New* Improved and unique manufacturing process
Hand made in the UK - Every pack is matched in size and density for unbeatable consistency
Unchalked for mess free installation and easy to shape
Outstanding chalk retention - No harsh sounds on contact with the cueball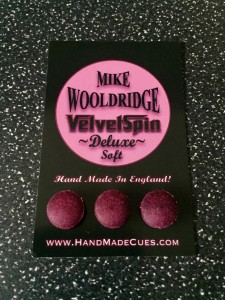 Specifications
Pack size = 3 Tips
Soft
10mm
9mm - Coming Soon
Note
Please make sure you select the correct ferrule option
For BlackSpin ferrule - The tip MUST be fitted to the cue with the included fibre pad to prevent long term damage to the ferrule. See fitting instructions below.
Please also follow the general re-tipping instructions here
How To Install A Fibre Pad
1) Use cyanoacrylate glue (superglue) - Any superglue is fine but preferably use gel or thick type because it is easier to control.
2) There is no need to sand the pad but lightly dampen the pad first by wetting your fingertip and touching it on the pad. Then blow on it so it is not 'wet' to look at. Moisture helps to cure superglue and also ensures there is no dust/dirt on the pad to cause problems with adhesion.
3) Lightly sand the back of the tip to ensure it is dead flat and clean, then dampen the tip base using the same method used in step 2 above.
4) Put the pad on a flat surface with a spot of superglue in the middle of the pad.
5) Carefully position the tip centrally on top of the pad and press down with finger pressure for a few seconds. Use enough superglue so that a little comes out all round the sides of the tip to be sure the whole tip is stuck. Do not use too much glue so that it drips over the side of the pad or you may stick it the surface you are working on. Your wife/mother's favourite table probably…
6) Once stuck, use scissors to trim around the tip. The top edge of the scissors should run against the wall of the tip so it's easy to guide it round and trim the excess fibre off in just a few seconds, leaving the pad almost exactly the same size as the tip.
7) Don't worry if you're a little bit out here and there, you only need to be close enough so that you can clearly see you are positioning the tip correctly on the ferrule. But if you leave too much on, you may misjudge and stick the tip off to the side slightly, so try to trim it nice and close.
8) Lightly sand the the base of the fibre padded tip to ensure it is dead flat and clean.
9) If you wish to stick the tip to your ferrule using superglue, dampen the fibre pad again using the same technique described in step 2 above. If you wish to use epoxy or contact adhesive, do not wet the tip.
Dispatch
Orders are dispatched Monday - Thursday, and most Fridays
Place your order before 3pm (GMT) and it should get sent the same day
Orders placed on Friday may not get dispatched until Monday, but maybe...
Orders placed Saturday or Sunday will be dispatched Monday
Delivery
Choose from Free Delivery or Courier Option
UK Free Delivery - Royal Mail First Class - No tracking - Usually arrives next day but please allow 7 days
UK Courier - U.P.S. or Royal Mail Special Delivery - Next day delivery - Tracked & Guaranteed - Fully insured for losses
Worldwide Free Delivery - Royal Mail Airmail - No tracking - Usually 5-10 days but please allow at least 28 days as delivery to some countries has been taking a very long time recently (sometimes 2-3 months!). So please do not ask me for times because I simply do not know.
Worldwide Courier - U.P.S. or other major courier - Tracked & Guaranteed - Fully insured for losses - Next day to most of Europe, 2-3 days for Rest of World but delays possible due to some countries customs clearance processes
Reviews
Help spread the word - Please return to the shop after purchase and leave a review
If you purchased this product from Ebay, you are still welcome to leave a review