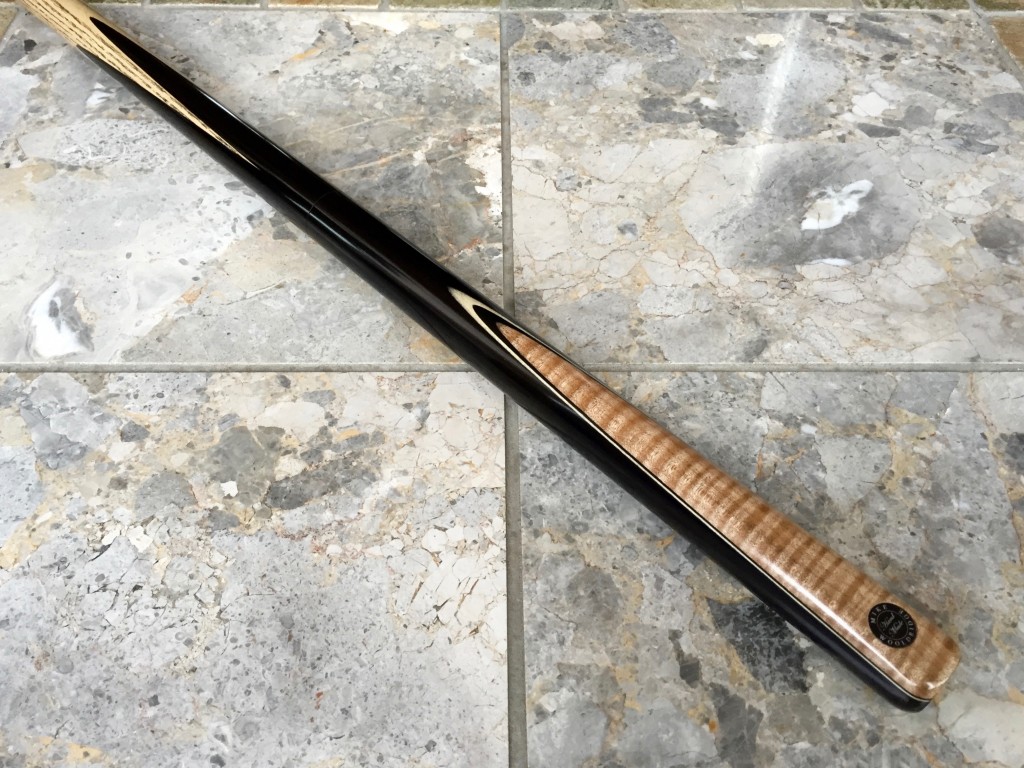 The Tiger (tahy-ger)
Featuring highly figured Tiger Maple and white/black veneers
Features
Professional quality Ash or Maple shaft
Ebony Butt + Burrwood front splice
Traditional Oil Finish for super smooth cueing
Naturally weighted and balanced for superior performance
BlackSpin or Brass Ferrule
Recommended Specifications
57"-58", 9mm-9.5mm, 28mm-29mm, 17oz-18oz
*FREE* - Customize your cue sizes in the shop
If you like this cue but have a very specific shaft request, please order MW~02c using Virtual Cue Maker program and wait for it to be made
Why buy?
Hand made and hand finished to the highest possible standards. Unbeatable in terms of quality and playability.
Tiger Maple, so called because of the dramatic horizontal striped effect, is a real head turner but has seen surprisingly little use on snooker cues over the years. Overshadowed by Birds Eye Maple as a decorative addition, Tiger Maple (also known as fiddleback, flame and curly) creates a stunning visual impact and is ideally suited to the size and shape of a cue butt. The horizontal stripes really 'pop' and compliment the cue brilliantly. That's if you can find the right type of highly figured stuff. I have plenty, thank you for asking... 😉
Not without it's problems, it is fairly soft, so must be treated differently to other, naturally hard, woods. However, I have developed a new procedure during production which helps seal and 'harden' the wood from the inside out, making it more durable, stable, and produces superior finishing results. Also, additional care must be taken during final finishing or that beautiful figuring can easily be spoilt.
You don't get to see what goes on behind the scenes in making this cue, but I can tell you it would far far easier to stick a 'normal' hardwood front splice on and have done with it.
Featuring even splice points all round (rarely found even on competitors 'best' cues), it is equivalent to the MW~02c found in Virtual Cue Maker.
Mike Wooldridge Tiger Cue - It's grrrrrreat! (see what i did there :D)
 The Tiger Cue