My Grandad
15/05/1916 - 10/01/2006
The kindest man I ever knew and my inspiration in life.
My Grandad is the reason I am making cues today. Not because he taught me, but because he was always there and ready to help me in whatever I was trying to do.
I would spend hours in the garage, cutting, glueing, experimenting. No matter what I asked of him, he would help me. He never said no. Not once.
There has, and never can be, anyone like him in my life. I knew, without question, that my Grandad was behind me in everything I ever tried or did. He believed in me and I know that I will never again meet anyone as warm and kind.
We had our time together and I am eternally grateful for every moment.
I am going to miss you so much Grandad.
God Bless.
All my love,
Mike xxx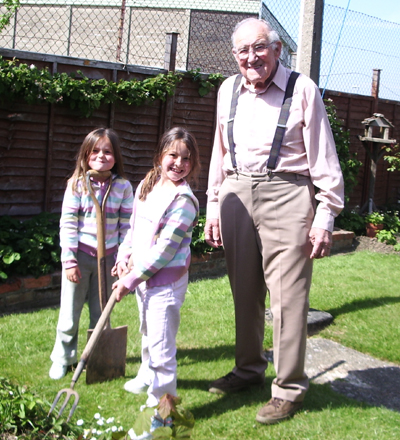 Grandad in his garden with my daughters, Maisie and Victoria, giving them time as he always gave me.
He will be sadly missed by all.