The World's most powerful interactive cue design tool
Please log in to access Virtual Cue Maker
What is Virtual Cue Maker?
VCM is the program for Custom Cue orders if you can't find a stock cue you like
It enables you to choose style, wood, sizes, and view your design immediately
VCM has been accurately programmed to give you a very clear image of what your cue will look like: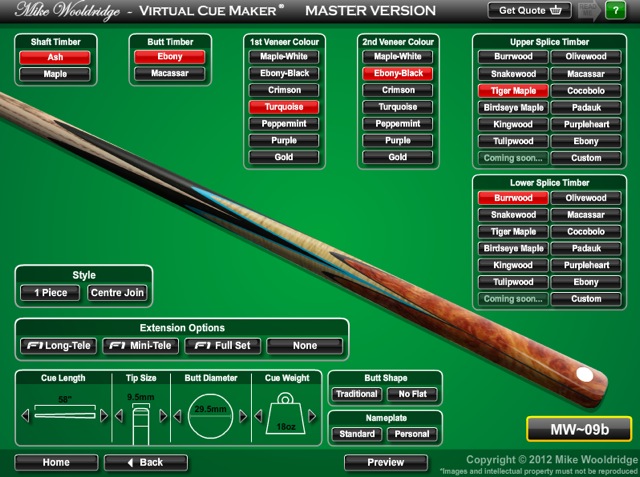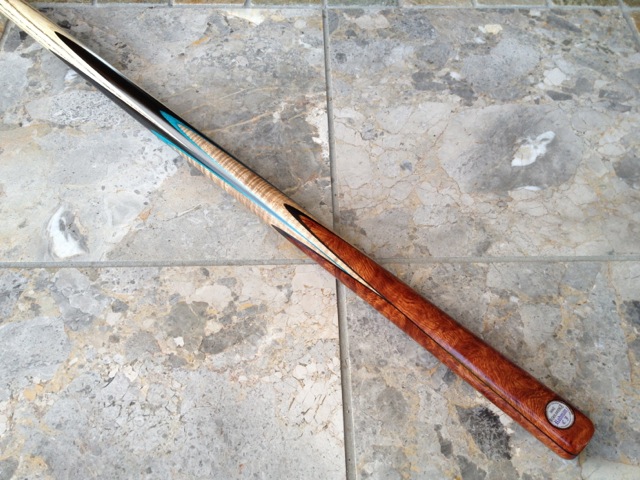 VCM vs Legend
VCM custom cues are made to customers unique designs and specifications. Made to the highest possible standards, they are the best hand made cue money can buy.
Shafts will be specially selected for their most appealing visual nature, but it is important to understand that they are not 'better' than Legend or other standard cues. They are all made to the same unbeatable levels of quality.
Virtual Cue Maker simply gives control to the customer and affords the opportunity to create your own unique design and, if absolutely necessary, request a specific shaft grain pattern.
But rest assured that all VCM cues will come with a shaft personally selected by myself, so unless you really insist on a specific number of arrows or extra straight lines, then leave it to me and I'm sure you will be happy.
Finally, remember this privilege comes at a premium price, so if you don't need a fancy design or special shaft look, then stick with a standard cue. For more information, see Shafts
Hint
All cues are made to the same standards so unless you want a specific design, and have a lot of money to spend, choose any cue that is currently available in the shop.
Remember, the craftsmanship is the same, the playing qualities are the same, they can be customised to most sizes, and they can be ready much quicker.
But if you're going to start asking me for '6-7 arrows', or 'clear maple with no little brown marks', then you're going to have to place an order via VCM and pay a premium price to cover the time and effort needed to find exactly what you are looking for.